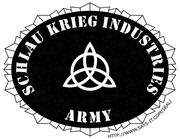 The main infantry of Schlau Krieg Industries. We establish a firm strength on the ground. There is no winning wars without the Army!
Ranks & Members:
TIER ONE
Private
Specialist
Corporal
Sergeant
Staff Sergeant
Sergeant First Class
Master Sergeant
First Sergeant
Sergeant Major
Command Sergeant Major
Sergeant Major of the Army*
TIER TWO
Warrant Officer
Chief Warrant Officer Two
Chief Warrant Officer Three
Chief Warrant Officer Four
Chief Warrant Officer Five
TIER THREE
Second Lieutenant
First Lieutenant
Captain
Major
Lieutenant Colonel
Colonel
Brigadier General
Major General
Lieutenant General
General
General of the Army** = hello6130
Notes
(*)Second in Command
(**)Owner
Standard 'Classes':
Rifleman
Support Gunner
Sub-Machine Gunner
Engineer
Light Machine Gunner
Explosives Technician
Sniper
Heavy Machine Gunner
Assault Rifleman
Driver
Ad blocker interference detected!
Wikia is a free-to-use site that makes money from advertising. We have a modified experience for viewers using ad blockers

Wikia is not accessible if you've made further modifications. Remove the custom ad blocker rule(s) and the page will load as expected.