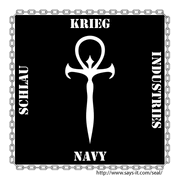 The Water based assault front. Providing artillery, transportable air-support, and supplies over-seas. Ever important. Additionally, these are the troops piloting the Space faring vehicles.
Ranks and Members:
TIER ONE
Seaman Recruit
Seaman Apprentice
Seaman
Petty Officer Third Class
Petty Officer Second Class
Petty Officer First Class
Chief Petty Officer
Senior Chief Petty Officer
Master Chief Officer
Command Master Chief Petty Officer
Fleet Master Chief Petty Officer
Master Chief Petty Officer of the Navy*
TIER TWO
Warrant Officer
Chief Warrant Officer Two
Chief Warrant Officer Three
Chief Warrant Officer Four
Chief Warrant Officer Five
TIER THREE
Ensign
Lieutenant Junior Grade
Lieutenant
Lieutenant Commander
Commander
Captain
Lower Rear Admiral
Upper Rear Admiral
Vice Admiral
Commandant of the CG
Admiral Chief of Naval Operations* = MauriK
Admiral of the Navy** = hello6130
Notes
(*) = Seconds in Commands
(**) = Owner
Ad blocker interference detected!
Wikia is a free-to-use site that makes money from advertising. We have a modified experience for viewers using ad blockers

Wikia is not accessible if you've made further modifications. Remove the custom ad blocker rule(s) and the page will load as expected.